Toolkit For Life Alain De Botton Essays
The School of Life
Alain has always tried to get ideas to impact on the way we actually live. So in the summer of 2008, Alain and some colleagues set up The School of Life.
The School has a passionate belief in making learning relevant – and so runs courses in the important questions of everyday life. Whereas most colleges and universities chop up learning into abstract categories ('agrarian history' 'the 18th century English novel'), The School of Life titles its courses according to things we all tend to care about: careers, relationships, politics, travels, families. An evening or weekend on one of its courses is likely to be spent reflecting on such matters as your moral responsibilities to an ex partner or how to resolve a career crisis.
The School offers communal meals, holidays and a beautiful shop with fascinating gift vouchers and other items. It also has a division offering psychotherapy for individuals, couples or families – and it does so in a completely stigma-free way. For the normally reserved British, it must be a first to have an institution that offers therapy from an ordinary high street location and moreover, treats the idea of having therapy as no more or less strange than having a haircut or pedicure, and perhaps a good deal more useful.
The School attempts to put learning and ideas back to where they should always have been – right in the middle of our lives.
The School of Life is at:
70 Marchmont Street
London WC1N 1AB
Tel 020 7833 1010
www.theschooloflife.com
Essays in Love
Essays in Love is a novel about two young people, who meet on an airplane between London and Paris and rapidly fall in love. The structure of the story isn't unusual, but what lends the book its interest is the extraordinary depth with which the emotions involved in the relationship are analysed. Love comes under the philosophical microscope. An entire chapter is devoted to the nuances and subtexts of an initial date. Another chapter mulls over the question of how and when to say 'I love you'. There's an essay on how uncomfortable it can be to disagree with a lover's taste in shoes and a lengthy discussion about the role of guilt in love.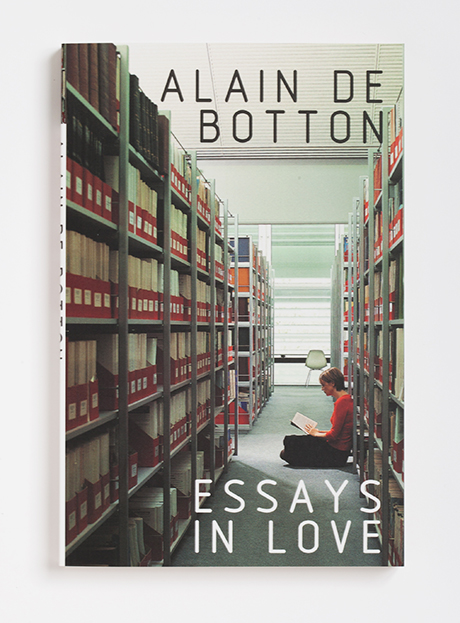 The book is an intriguing blend of novel and non-fiction. As in a novel, there are characters and realistic settings, but these are blended in with a host of more abstract ideas. The book has attracted a particular following among those who have recently fallen in love ­- or come out of a relationship.